"Our day was nothing short of magical! Everything we wanted and expected. I wouldn't have changed a single thing. The property is beautiful and the food is delicious." ~ Becki
Evins Mill hosts wedding ceremonies at outdoor, covered & indoor locations; furnishes, sets-up and breaks-down chairs, a wedding runner and a trellis; and provides a wedding facilitator to assist in the planning, decorating, processionals and beyond. While outdoor ceremony venues can accommodate as many as 175 guests or more, the maximum capacity for covered venues is 125 guests and for indoor venues is 100 guests.
Outdoor Ceremonies
Evins Mill hosts wedding ceremonies at one of three outdoor locations: the East Lawn, located on South Campus by historic Granary & Gristmill; the South Lawn, also located on the South Campus by Evins Mill Pond; and Ivy Overlook, located on the North Campus at Main Lodge (covered).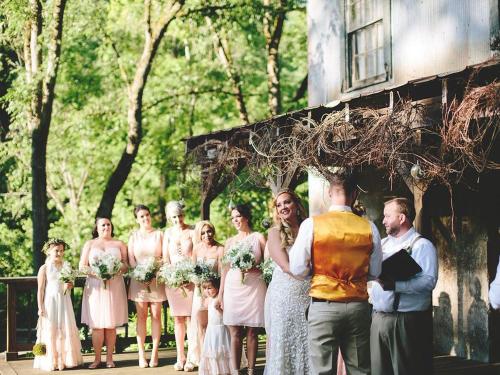 Located on the South Campus, the East Lawn was designed in 2013 specifically with wedding ceremonies in mind. Its lovely hardscaped perimeter is complimented by equally compelling landscaping, replete with native Tennessee flora, including skip laurels and evergreens, giving the space a natural, enclosed and intimate feel. With a flat and even grass surface, the East Lawn is ideal for those less sure of foot.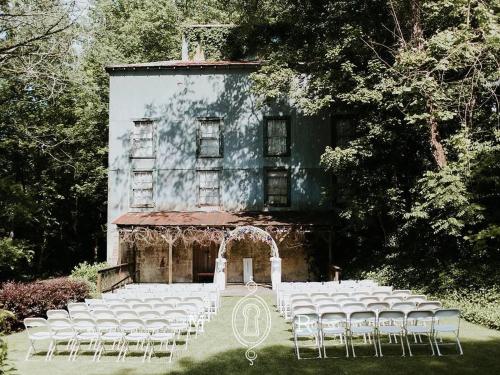 It is also surrounded by historic buildings, including the Granary and Gristmill, providing a barn-like or rustic-chic backdrop for ceremonies. The granary in particular allows for a variety of floral and decorative options to frame your ceremony. Equipped with speakers on its front deck, the Granary is connected to the Gristmill's PA system should you wish to incorporate a play list into your ceremony.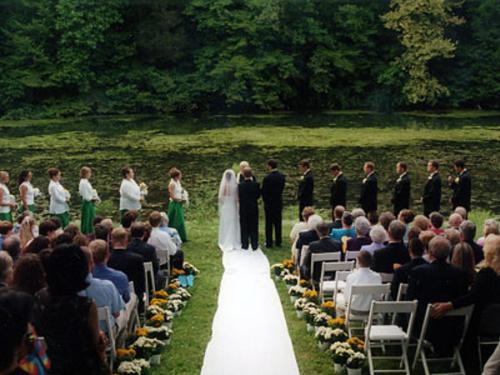 Before the advent of the East Lawn in 2013, the South Lawn was the most popular location for outdoor ceremonies at Evins Mill. Located near the East Lawn on the South Campus and on the bank of Evins Mill Pond, it remains a popular alternative for couples who wish to stage their ceremony immediately by a body of water.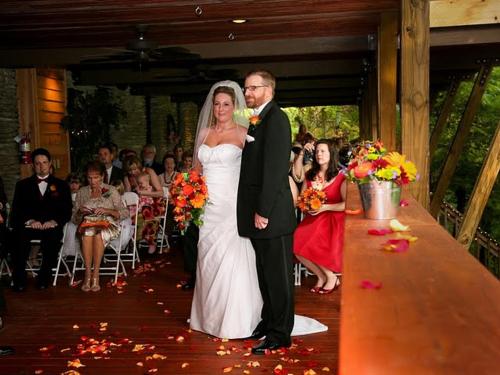 Unlike the East & South Lawns, Ivy Overlook is located on the North Campus at the Main Lodge. Also unlike the two lawns, Ivy Overlook is covered and is the default ceremony location in case of inclement weather. A spacious covered deck with scenic views, it is the first choice for some couples regardless of weather, as it features not only beautiful, elevated views, but also a flat hard surface, PA system, ceiling fans and dimmable lighting. As part of the Main Lodge, it is also very convenient to the reception festivities that follow.
Indoor Ceremonies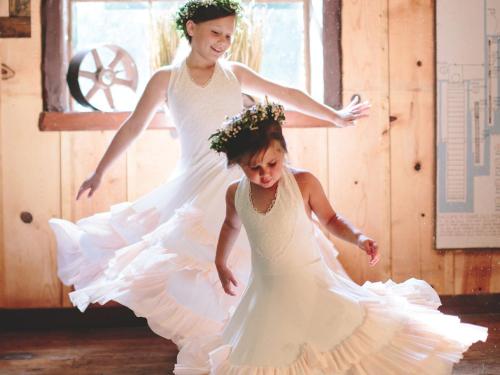 If you're planning a winter wedding or simply prefer an indoor ceremony, the centrally heated & cooled Davidson Room is well-suited. Located in the historic Gristmill on the South Campus, its wood-panelled walls, tongue-and-groove ceiling and soft carpet lend a warm and intimate ambiance to ceremonies. It also features many large windows which peer out over beautiful scenery and which can be opened - allowing you to invite nature in - but on your terms.

Taylor Hall is located in the Main Lodge on the North Campus. Like the Davidson room, it is of couse centrally heated & cooled and features many windows peering out over beautiful scenery. As Taylor Hall is the primary location for larger reception meals, it may or may not be a suitable location for a ceremony depending on the size of your guest list.