"The staff took care of setting up everything including moving flowers from the ceremony location to the reception hall. And the food was AMAZING. My husband and I still hear our guests talk about the delicious food a year and a half later!" ~ Ashley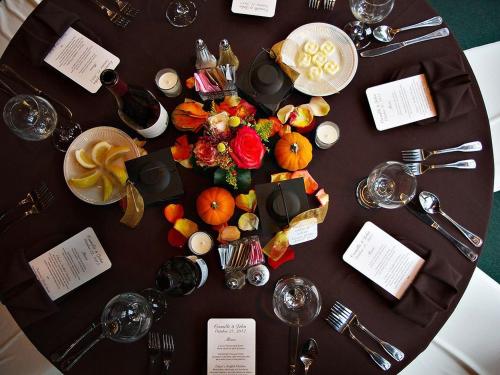 One of the highlights of the Evins Mill experience is the cuisine. Our chefs offer a wide selection of locally sourced and freshly prepared menu options, served in an intimate setting for a variety of events in a multitude of styles, including…

light or heavy hors d'oeuvres
reception buffets, carving stations, four-course dinners & festive cookouts
hearty breakfast buffets
sack lunches or seated three-course luncheons
A Warm & Festive Setting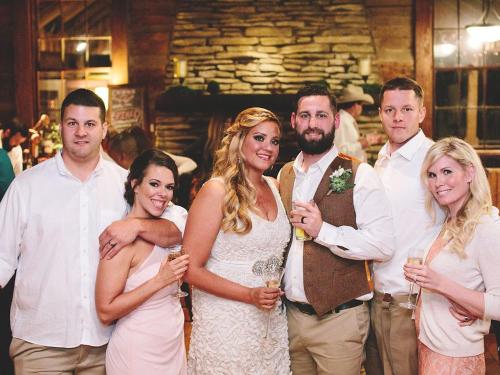 Evins Mill hosts food & beverage services in the Main Lodge, which offers a warm setting for receptions, rehearsal dinners and the festive traditions that often accompany them, including the cutting of the cake, toasts and roasts, the first dance and the toss of the bouquet and garter. The Main Lodge features wireless internet and a PA system connected to all dining areas, allowing for streaming satellite music or custom-designed playlists.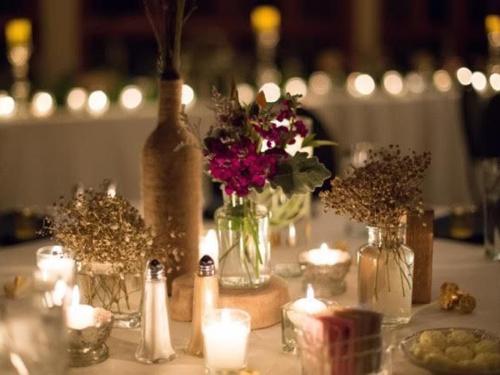 In Evelyn Commons, we also boast a dedicated room for buffet service and can seat over 200 guests (155 indoors/45 alfresco) in the following locations...

Taylor Hall ~ reception-style seating for 100
Manning Overlook ~ alfresco seating for 46
Millstone Landing ~ intimate seating for 32
Adele Commons ~ booth-style & bar-side seating for 20
Stone Room ~ booth-style seating for 10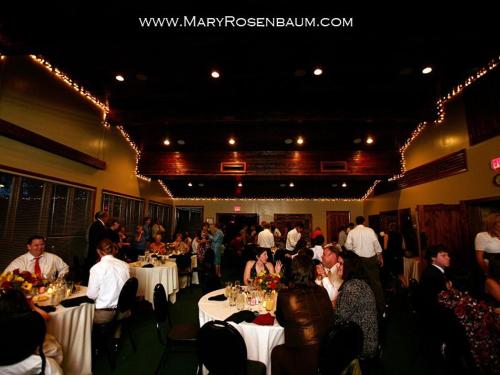 Taylor Hall
Taylor Hall is a 1,200 square foot reception space with a wall of windows peering out over beautiful scenery. It can be set-up with 10 60" round tables seating 8 guests each, or with rectangular tables configured to seat a maximum of 100. To leave room for dancing however, Evins Mill recommends seating for fewer than the maximum capacity.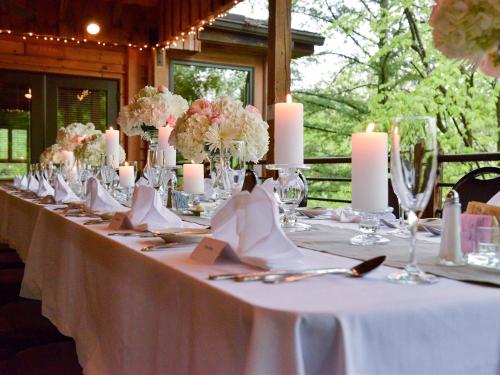 Manning Overlook
Adjacent to and directly accessible from Taylor Hall is Manning Overlook, a wrap-around covered deck with scenic views and alfresco dining for a maximum of 46 guests at a series of rectangular tables. In season, Manning Overlook is an especially popular space for rehearsal dinner cookouts and ancillary seating for larger receptions.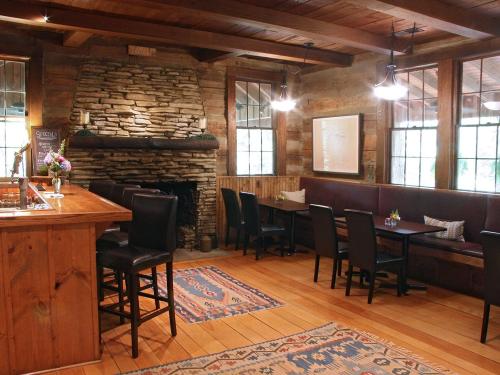 Millstone Landing & Adele Commons
Adjacent to Manning Overlook are Millstone Landing & Adele Commons, which offer fireside dining in the original and historic portion of the Main Lodge and which between them can accommodate as many as 52 guests. Adele Commons also features a full-service bar. Adele & Millstone are popular for overflow dining for larger receptions and are the primary seating locations for breakfast service and smaller events.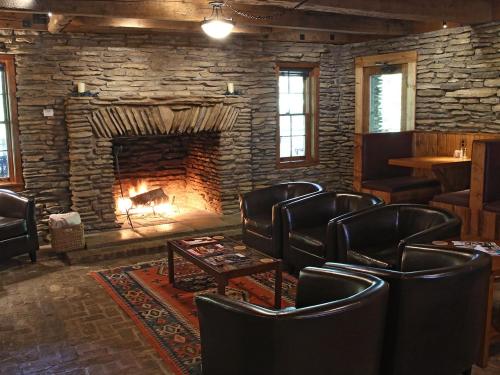 Stone Room
Located on the lower level of the Main Lodge and slightly apart from the dining spaces outlined above, the Stone Room can seat 10 guests and is an ideal space for young children to dine with adult supervision. With intimate booth-style and fireside seating, it's not too shabby a space for adults either!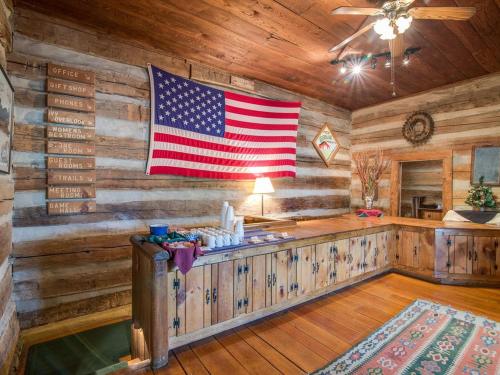 Evelyn Commons
With over 75 square feet of counter space and centrally located between all dining areas - and just as importantly the kitchen, Evelyn Commons is ideally situated and configured for reception buffets. Between its three counter surfaces, Evelyn Commons can easily accommodate the most extensive of buffets as well as full beverage service.
Freshly Prepared Cuisine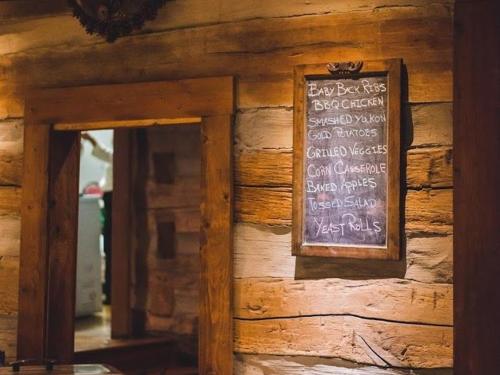 For events with fewer than 75 guests, Evins Mill can prepare plated four-course dinners or informal cookouts - an especially popular form of service at rehearsal dinners. For larger receptions, Evins Mill offers a buffet menu, which is included below. With the selection of one or up to two entrees, we offer a choice of one starch side, four vegetable or salad sides, and a bread selection. All meal services come with tea, coffee, lemonade & ice water.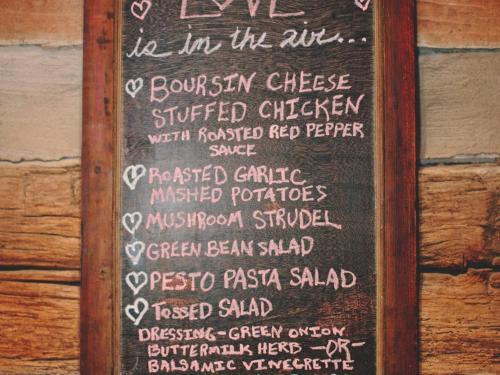 Between the ceremony and reception, Evins Mill also offers an extensive hors d'oeuvres menu, also included below and a popular option for guests as they wait for you to finish the sometimes extensive post-ceremony photo shoot. At mid-day, we can also prepare intimate three-course meals, buffets or gourmet sack lunches for bridal party luncheons.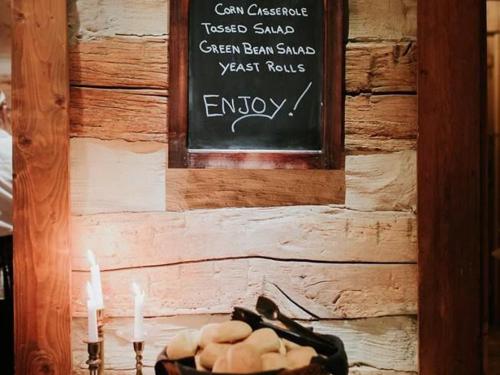 Evins Mill is sensitive to and by advance arrangement can accommodate most any special dietary need, including but not limited to gluten-free, vegetarian and vegan fare. We can also prepare and price custom-designed and theme menus upon request. To receive a current edition of our event menu with more details and pricing, please call our reservation office at 615.269.3740 (nashville).
Sample Menu
Carving Stations Entrees
Apple Stuffed Pork Loin
Pastured, Blackened Strip Loin
Pastured, Smoked Rib Loin
Pastured, Beef Tenderloin
New Zealand Lamb Rack
Roasted Bison Rib Loin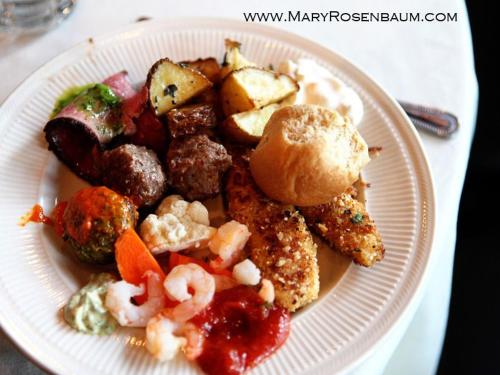 Other Entrees
Sesame Encrusted Chicken
Edgar's or Boursin Stuffed Chicken
BBQ Baby Back Ribs & Chicken
Pepper Seared Pork Tenderloin
Grilled Jumbo Shrimp
Seared Wild King Salmon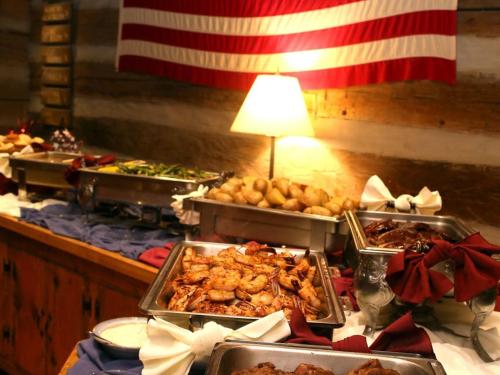 Starch Selections
Baked or Mashed Yukon Gold Potatoes
Roasted Garlic Mashed Potatoes
Rosemary Garlic Roasted Red Potatoes
Au Gratin Potatoes or Root Gratin
Caramelized Onion, Barley Pilaf
Vegetables, Salads & Other Sides
Boursin Stuffed Cherry Tomatoes
Summer Cucumber Salad
Fresh Pesto Pasta Salad
Cornbread, Blackeye Pea Salad
Black Bean & Corn Salad
Vegetable Ratatouille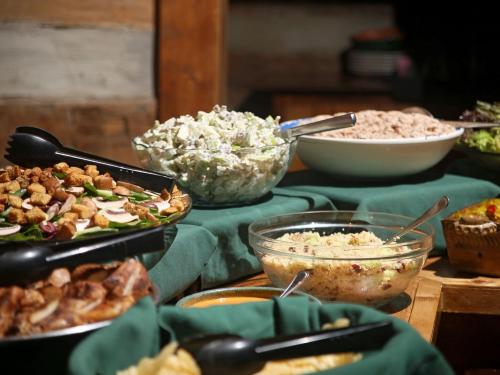 Hearty Hors d'oeuvres
Basil Chicken Salad
Country Ham & Biscuits
Smoked Salmon
Crawfish & Corn Pancakes

Boursin Stuffed Tomatoes

Tennessee Oriental Meatballs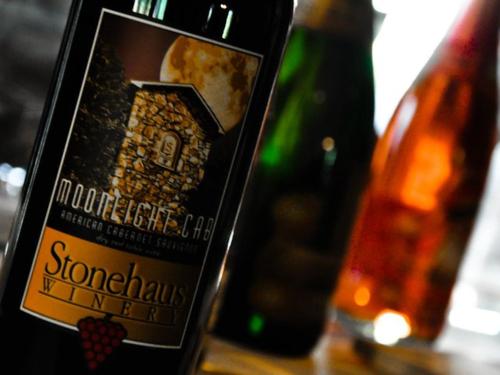 From the Bar

a bevy of beers from Calfkiller Brewey
a variety of wines from Northfield & Stonehaus Wineries
moonshine from Short Mountain Distillery
vodka from Speakeasy Distillery
rum from Prichards Distillery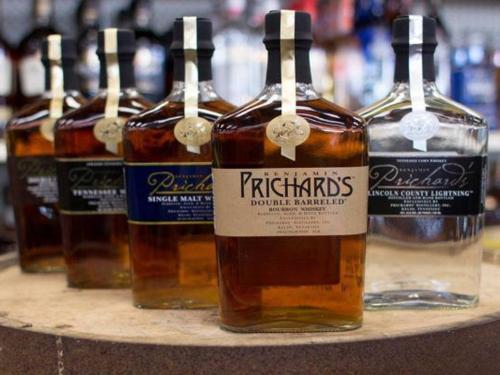 In addition to such locally-sourced libations, Evins Mill features a large selection of more well-known domestic, imported and premium bottled beers; white, red and sparkling wines; and a wide range of spirits. Within this wide array of beverages, Evins Mill offers a significant number of very reasonably priced house wines and well drinks. For a sample beer and wine menu, click here.