Fine Dining
"The cuisine was outstanding. Service from the time we got there until the time we left was top notch."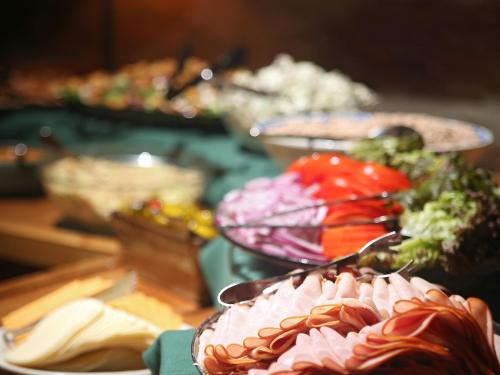 For many guests, dining at Evins Mill is the highlight of their experience. Offering not only breakfast but also dinner, lunch, breaks & full bar service,. Evins Mill is a full-service resort, fielding a full chef, wait & bar staff. Whether for an individual couple, a family reunion, a "big chill" weekend, a small corporate group or a large wedding party, our cuisine is prepared fresh on-site and served in just the right setting, making it an inviting location for...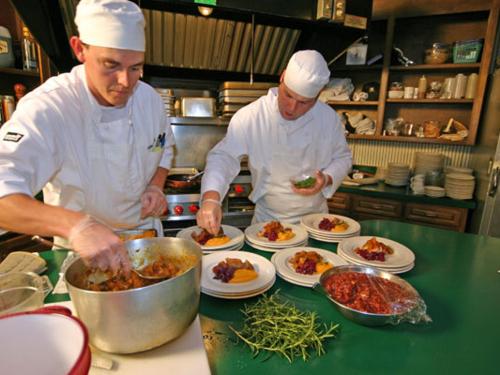 ​​​​​​​ ​​​​​​​ ​​​​​​​ ​​​​​​​​​​​​​​
Meal & Break Service

While the resort primarily serves its overnight guests, reservations for dinner, breakfast, lunch and holiday brunches & banquets are welcome by advance arrangement. And while groups of ten people or more may pre-select one entrée for each meal, our chefs provide individual couples with a package, including choice of two dinner entrees, a breakfast buffet in the morning and a sack lunch.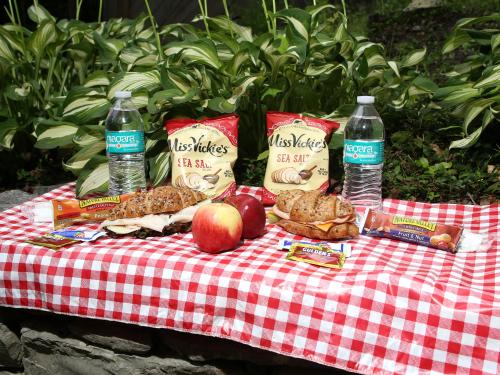 If most dinners are five-courses, featuring an appetizer, soup, salad, entrée and dessert, our chefs also prepare reception buffets and festive "overlook" cookouts on designated holidays and upon group request. Midday meals are typically sack lunches, though as with dinner, plated luncheons, indoor buffets or outdoor cookouts are also available upon group request. With a few exceptions, breakfast is served buffet style.
Bar & Beverage Service
In addition to elegantly prepared cuisine, Evins Mill also boasts a full-service bar, featuring...

domestic & premium/imported bottled beer
locally brewed Calfkiller Beer on-tap
other mixed, specialty & after-dinner drinks
a wide selection of red, white & sparkling wines
wines from local vineyards, including Stonehaus & Northfield
Dining Locations & Settings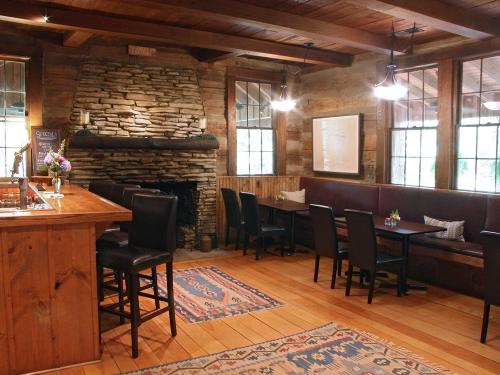 All food & beverage related services at Evins Mill take place at the Main Lodge in a variety of settings, including...

intimate dining rooms surrounded by hand-hewn log walls & fieldstone fireplaces - conducive to private dining & special occasions
covered decks with great views and sight & sound of water - ideal for private dining, festive cookouts & group socials
reception hall featuring a wall of windows overlooking beautiful scenery - perfect for receptions, rehearsal dinners & banquets
Thoughtful Provenance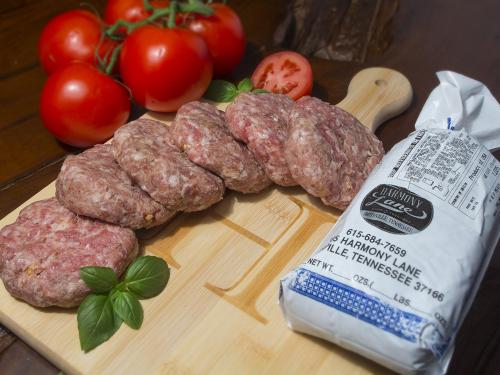 In an effort to acquire more of its food from local vendors who raise their animals in a humane, grass-fed and chemical-free environment and who grow their produce organically, Evins Mill partners with many Tennessee-based food purveyors. For a register of those locally based partners, including farms, creameries, dairies, wineries, distilleries & breweries - visit Thoughtful Provenance.
Our Recipes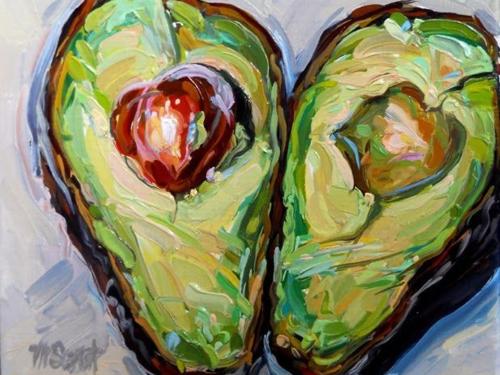 Once or so a quarter, Evins Mill posts recipes for many of its most popular entrees, sides, salads and desserts to Gastronomy, its on-line archive of culinary delights. Featuring not only recipes, but also links to video tutorials on the resort's YouTube Channel, Evins Mill makes it easy for guests to whip up some culinary magic in their own kitchen!