Sample Menus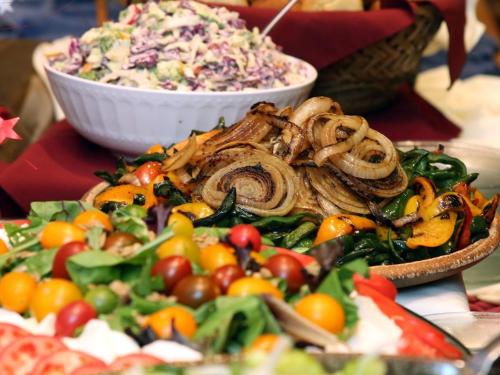 Below is a small sampling of the resort's menu. For those planning a group event such as a corporate retreat or wedding reception, please contact our sales desk at 615.269.3740 (nashville) to receive a complete menu with pricing.
Recipes for many of our most popular entrees, sides, salads and desserts can be found at Gastronomy, the resort's on-line archive of culinary delights.
Dinner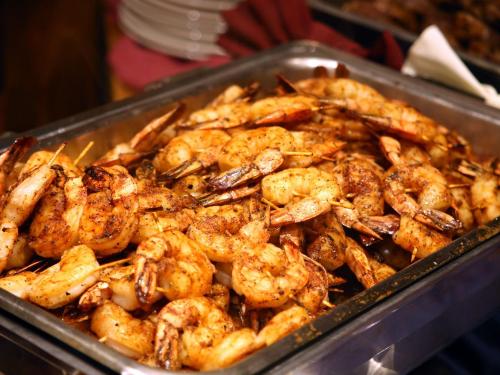 Boursin Stuffed Chicken
A boneless, skinless chicken breast rolled with Boursin cheese. Baked with pine nut, herbed breadcrumbs. Served with roasted red pepper cream sauce. Accompanied by roasted garlic, rosemary new potatoes.
Carved Beef Tenderloin
Black Angus, choice beef tenderloin is seasoned with ground Ethiopian coffee and spices. Seared and oven roasted; carved to order; served with Cabernet butter sauce. Accompanied by toasted pecan, herb couscous.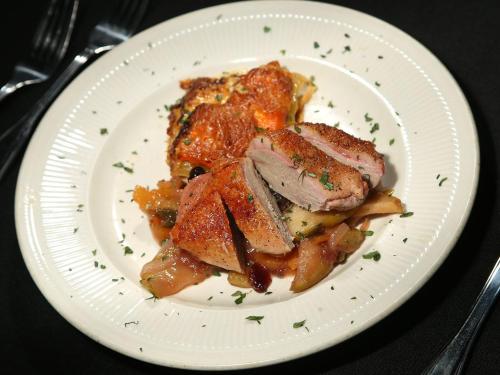 Cumberland Pork Tenderloin
Pork tenderloin, well-seasoned, seared and oven roasted. Carved to order. Served with a Brandy cream sauce. Accompanied by potato pancakes and braised red cabbage.
Gristmill Salmon
Fresh Tasmanian, Wild, King Salmon filet, molasses seared. Served with a ginger peach butter sauce. Accompanied by rosemary and garlic roasted red potatoes.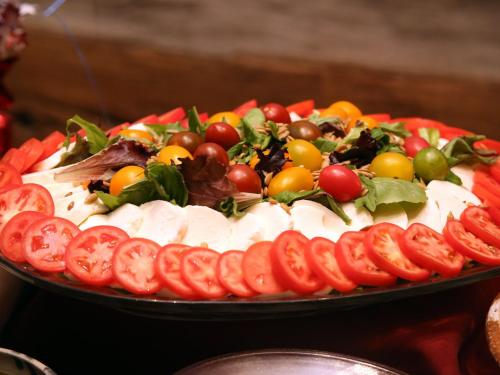 Down Under Lamb Chops
New Zealand lamb chops are oven roasted with a Dijon breadcrumb crust. Served with whole grain mustard whipped potatoes and fresh rosemary butter. Accompanied by cucumber feta salad.
Shrimp & Steak Cookout
Rib eye steaks and jumbo shrimp skewers served with baked potato, corn on the cob, assorted seasonal and tossed salads and all the trimmings.
Hors d'oeuvres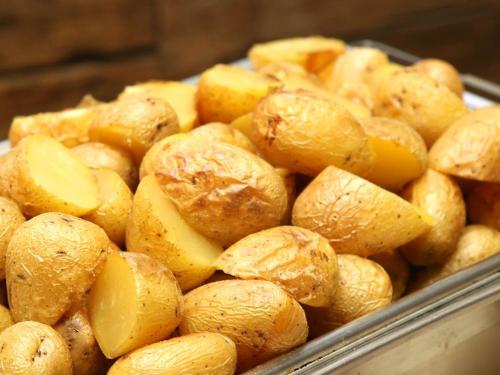 International Cheese Board
A variety of soft and hard cheeses served with assorted crackers. Accompanied by fresh grapes.
Wild Mushroom Strudel
A variety of wild mushrooms sautéed with garlic and fresh herbs. Combined with parmesan cheese and breadcrumbs, rolled in puff pastry, and baked. Served with an herb cream, tomato reduction.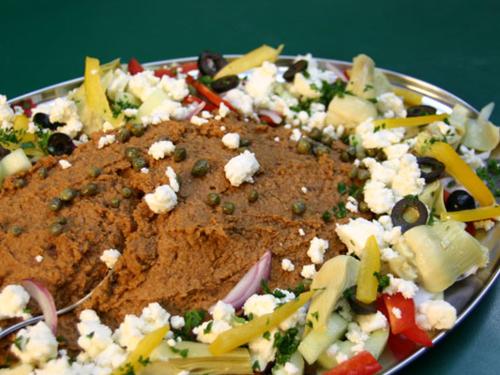 Assorted Vegetarian Spreads
A variety of spreads, including humus, tapenade, bruschetta and roasted eggplant, served with melba toasts, crackers and toast points. Choice of three.
Chicken Satay
Strips of Indonesian marinated chicken breast skewered and grilled. Served with a peanut chili dipping sauce.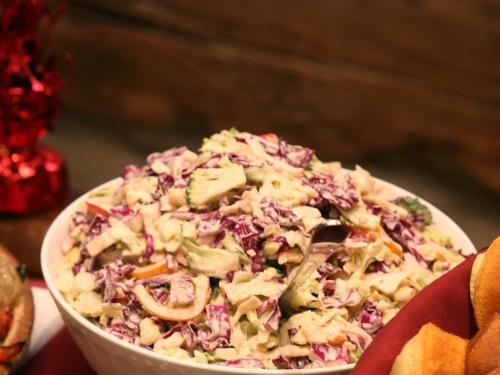 Colorful Quesadilla
Sun dried tomato and spinach flour tortillas grilled with black beans, corn, roasted red pepper and pepper jack cheese.
Crawfish and Corn Pancakes
Crawfish tail meat, kernel corn and pepper jack cheese. Combined, pan fried, and served with a creamy buttermilk, scallion dressing.
Desserts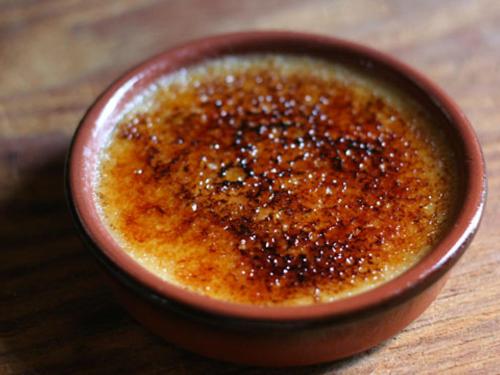 Warm Berry Cobbler
Mixed berry filling. Baked individually with a Streusel topping. Topped with vanilla ice cream.
Raspberry White Chocolate Crème Brulee
Rich custard flavored with white chocolate and raspberries. Served chilled with caramelized sugar (also available plain).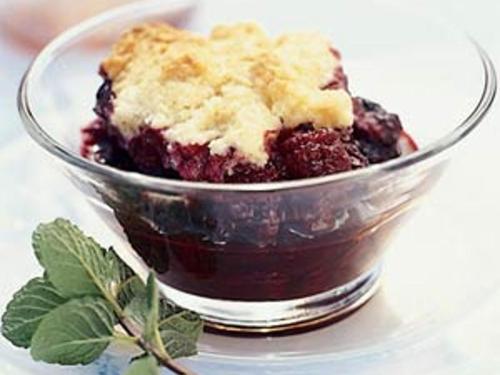 Flourless Chocolate Cake
For All the Chocolate Lovers. Served with Baileys sauce.
Caramel Orange Bread Pudding
Traditional vanilla, orange, cinnamon flavored custard, baked with cubed bread. Served warm with a rich caramel sauce.
Lunch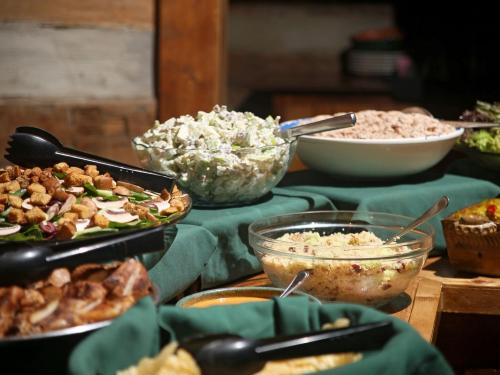 Mediterranean Chicken Salad
Balsamic, garlic marinated chicken breast pan seared and sliced. Served warm over mixed fresh salad greens with artichoke heart, black olive, bell pepper, sun-dried tomatoes, red onion, and cucumber. Garnished with toasted pine nuts and feta cheese. Accompanied by grilled pita bread, tzatziki dip and balsamic vinaigrette dressing.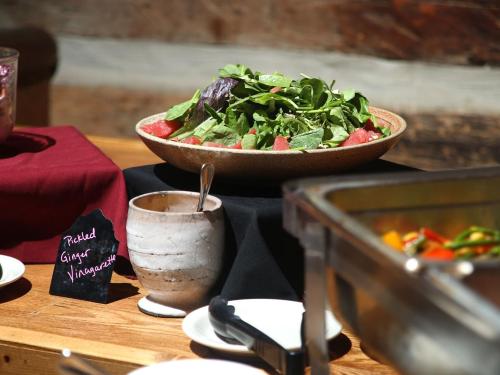 Pasta Bar
Breaded and pan-fried chicken Parmesan. Accompanied by alfredo sauce with penne pasta and tomato basil sauce with capellini pasta. Served with tossed salad and dressing, fresh Parmesan cheese and sourdough garlic bread.
Tennessee Barbecue Buffet
Barbecued, quartered chicken and baby back ribs. Served with all the trimmings, summer salads, and condiments.
Breakfast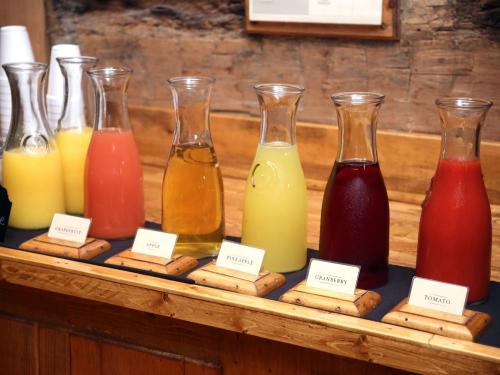 Sunrise Breakfast
Scrambled eggs, sausage patties, world renowned Benton's bacon, fresh fruit, homemade pastry, cereal & yogurt, toast selection with homemade jam, variety of juices and locally roasted, fresh ground coffee.